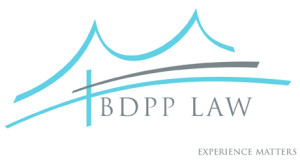 Client: Blumenthal, Delavan, Powers & Palmer, P.A.
Project: Corporate Branding, Website, Branded Paper Products
Challenge: Something from Nothing
BDPP Law is a new carnation of the former BDW LAW. One of the named partners dropped off while 2 new partners were added. It was the new naming of the firm that spurred us to design a new brand for the company. BDPP LAW primarily deals with land-use issues in Central Maryland.
The firm prides itself on dealing with difficult matters and is highly selective with their clientele. We designed a brand from scratch using a blue and grey. The colors were meant to signify the water that surrounds Annapolis and is foremost in many of the firm's cases. The grey was to symbolize strength. The bridge, an often overused icon, was a nod to the bridges surrounding Annapolis. We chose the prestige font, Trojan Pro to demonstrate a level of expertise that only this firm possesses. Lastly, we chose a tagline of Experience Matters. This firm's true strength is in the depth of knowledge and the reaches of influence in the firms attorney's. They know more about land-use among other areas than nearly any other firm. We designed the fresh logo. We implemented that logo into a full suite of stationary, business cards and a new website. The website was build from the ground-up to focus largely on the attorneys and the areas in which they practice. The website is done in WordPress and in a parallax fashion. The fully-responsive site is easily accessible and provides a high level of ease when viewing the site on mobile devices. Visit BDPPLAW.com to see more.